I spent three semesters at SUNY New Paltz in the beautiful Hudson Valley north of New York City.  The school offered a program with Ramapo for Children, a camp for at-risk kids in Rhinebeck.  I had the great fortune of becoming their arts and crafts counselor for the summer of 1990.  It was there that I met Judy Dulberg.  She was my boss, and we became friends.
Eventually we lost touch, but decades later, we reconnected on Facebook.  I post lots of artwork on Facebook.  (You've gotta have ART!)  I also illustrate a Christmas card each year.  I added Judy to that list.  She became quite a cheerleader, "liking" all my artwork, and sending me beautiful notes about my Christmas cards and other work.
At Christmastime in 2011, Judy sent me a poem she had written called "Yenta for Senta".  I immediately fell in love with it.  She asked if I would be interested in illustrating it as a picture book.  I was in the middle of illustrating a book I had written myself, but I just couldn't resist this project.  I put mine on hold and signed on.
Judy sent me a paragraph about her grandmother, along with two pictures from her parents' wedding in 1957.  She thought that she made the perfect Yenta.  She spoke of her early loving memories of her, her Yiddish accent, and how she had lost quite a few family members in the Holocaust.
This was my starting point.  What would Yenta look like?  My first sketches resembled the wedding photos, and then I started to have a little fun.  If Yenta were to pose for a picture, based on her age and story, what beautiful movie starlet would she channel?  Marlene Dietrich!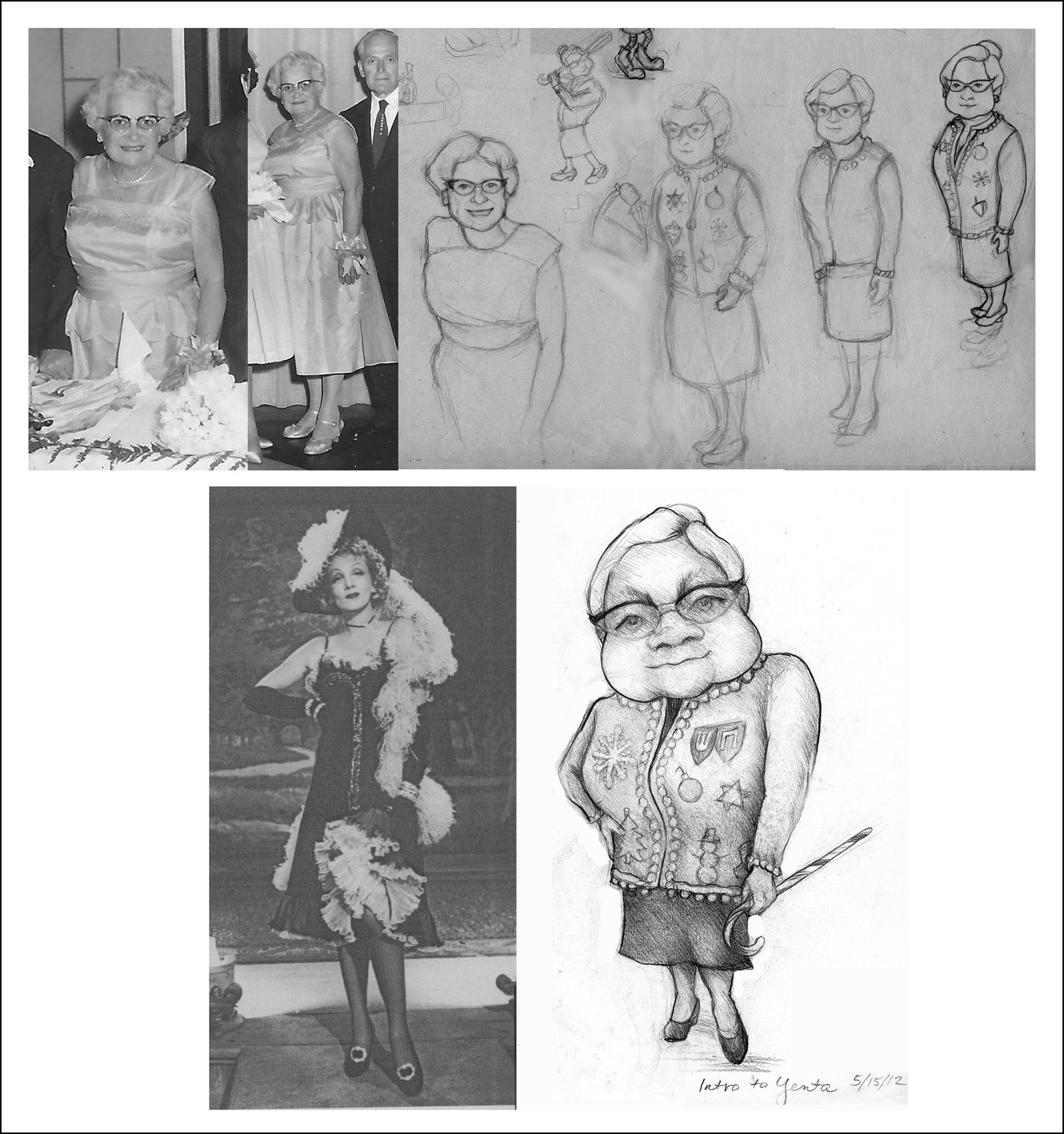 How about Santa?  Well, there just couldn't be any

more

Santa images out there.  What could I do to make my Santa special?  First off, he needed to be doing chores around the house when the elf called.  A little shoveling, maybe?  And maybe he comes in when he's finished, and Mrs. Claus is busy putting up Christmas decorations.  And all the phone calls are via snow globe.  He sits in his favorite chair, a Lovesac, because, well, that's our favorite chair here.
I wanted Santa to have a very particular personality.  The type of person who sits back and finds humor in all of the fray - never gets rattled.  I immediately thought of Irwin Greenberg, or "Greenie".  Greenie was a watercolor teacher.  I studied with him at School of Visual Arts in NYC.  He had a very unique technique.  He taught us to paint portraits on 4 ply plate bristol board.  Because the water and paint will swim around on the surface, you can build a big, messy picture and wipe off whatever you don't want.  It's incredibly freeing.  I like to cover the surface in paint and sculpt out forms with a paper towel or bristle brush, then add back and refine.  I tracked down Greenie when I was looking to become a children's book illustrator and wanted to learn more watercolor.  He was teaching at Art Student's League, and I studied with him for two more years.
By then he was in his eighties.  Three hour studio classes and he would never take a break, lecturing through all the model breaks, working with students who came early.  His work ethic guides me.  And in addition he had a quiet wise guy personality.  He was my perfect Santa.
Greenie passed away a few years ago.  It's a little bit silly for him to be Santa Claus.  But I think he'd enjoy it.
Here are some sketches as I was working out Santa: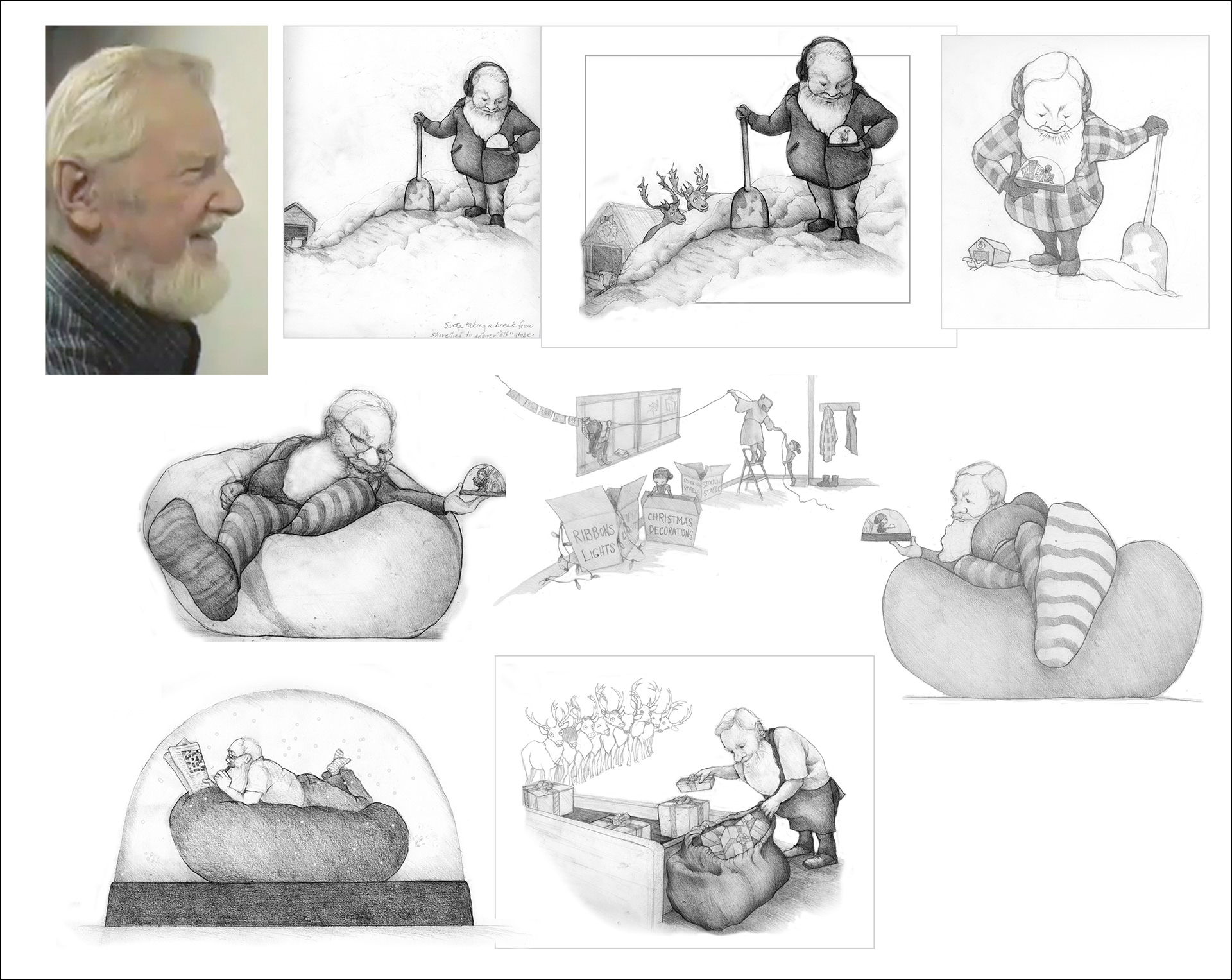 My first elf was wildly different than the final elf.  Just like Santa, there couldn't be any more elves out there.  What would make mine special?  I first envisioned him as a snoop, hiding in the corners.  He looked more like a traditional elf, very tiny, pointed ears, etc.  Then it occurred to me - what if he was an undercover spy?  He would be the same size as the children, and possibly one of the children.  I changed him over to a Billabong ski hat and Converse Allstars.  Although he is still more rendered than the other kids, he can blend in.  
It also helps to have a son just about the age of the elf!
Below are several different sketches and renderings until my final elf: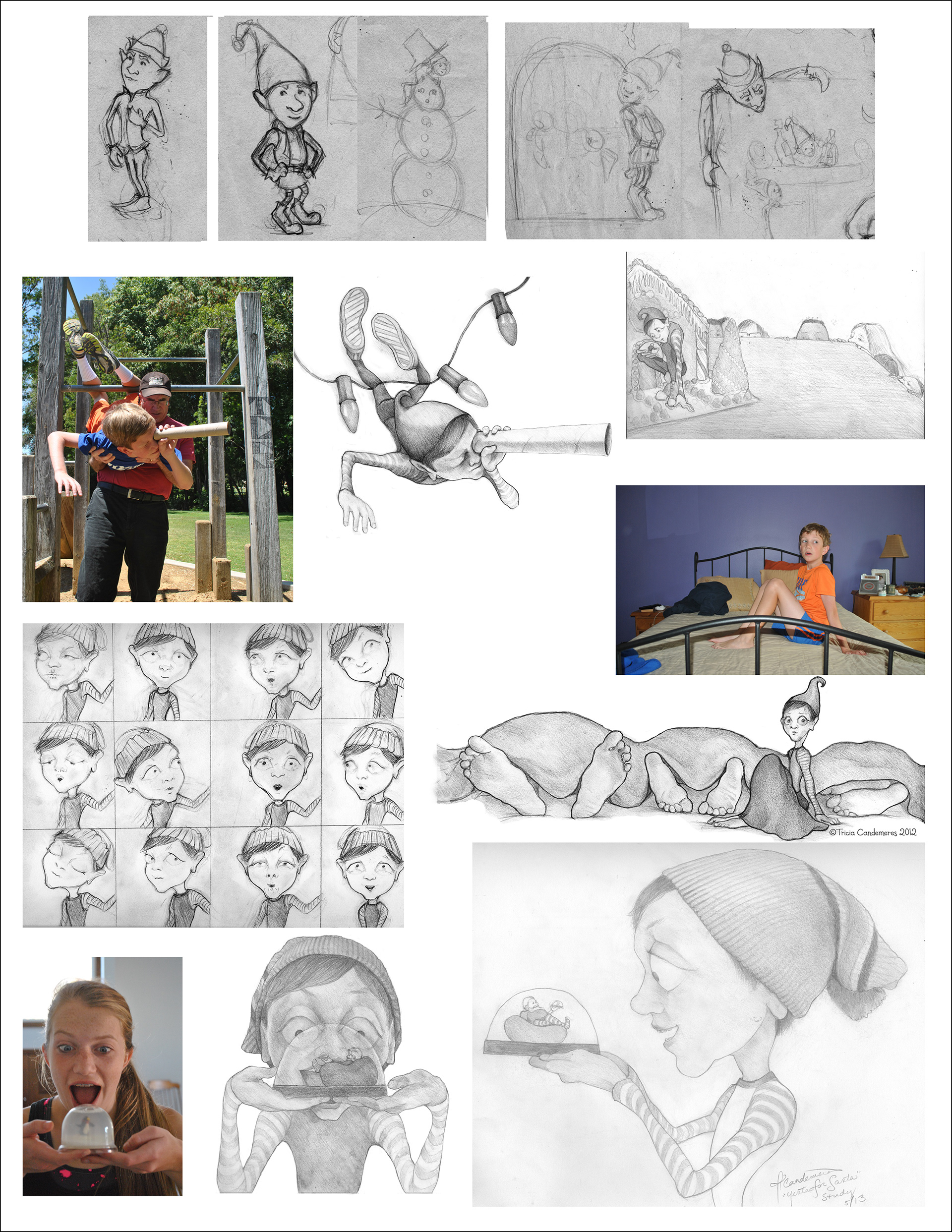 The kids are always referred to as the kids, so I decided that they should always be in a bunch.  They each have their own unique characteristics, though.  One boy has only one sock, one little girl has hair always covering her face, etc.  I broke the children apart only for the words "naughty" and "nice".  Originally those words were "help" and "ten-hut"!  It just shows that the more you work on something, the better the ideas!
And, once again, it helps to have children in the house to model for you!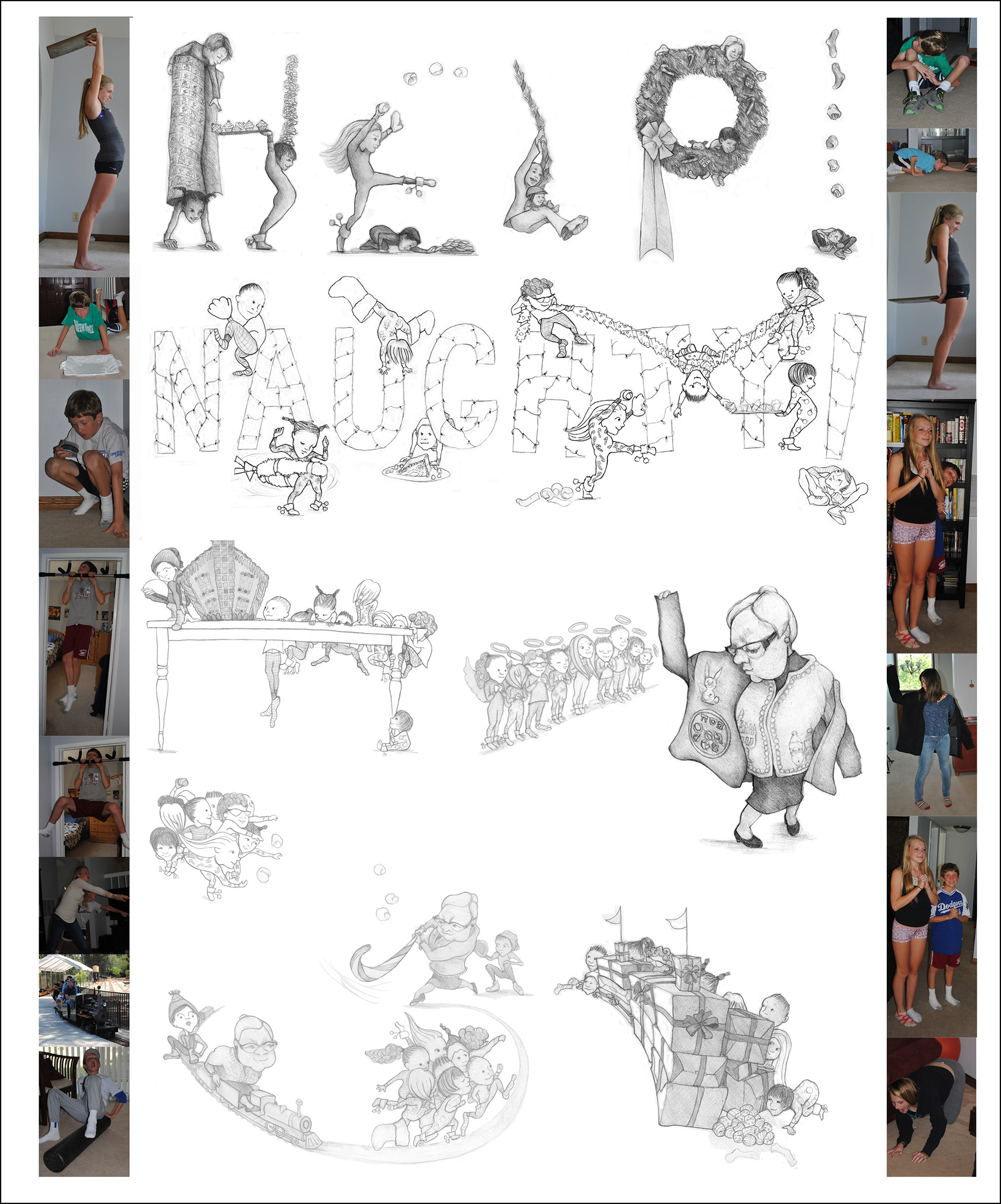 The Making of "Merry Christmas to all and to all an Oy Vey!
Two years ago, we sold our house in New Jersey, packed up our lives in a moving truck, and drove across the country.  We settled in beautiful Southern California.  What an amazing journey.  What a spectacular state.  My husband and I grew up together in New York City, and here we are, exploring national parks and the Pacific coast with our kids in tow.  But for two winters, my heart has grown heavy.  I just miss, miss my beautiful little town in New Jersey at Christmastime.  So the "Merry Christmas to all and to all an oy vey" page is my tribute to my old town.  
Each house on that block is a real house from my old street, including my own.  Santa's sleigh is my old Mini Cooper, and each car parked is one of the cars I've driven.  There's a violinist snowman (my daughter) and a baseball playing snowman (my son).  I love putting my own life into this page.  And in my own way, I'm paying homage to the wonderful people on that street that have given us so much love and support.

Here are some studio photos.  I still work on the same drafting table I bought with birthday money at age nineteen!  I used watercolor and gouache on plate bristol, the very technique I learned from Greenie.  I then cut the forms out in Photoshop so they could rest on a bright white background.  I wanted the whole book to feel like wrapping paper.  And the shape of the book is a square to feel like a present.
I hope people enjoy this book as much as I have.  Merry Christmas to all and to all an Oy Vey!